As we begin our transition from hopelessness to hope, recall research that kicked off this exploration. We saw the significant impact of hopelessness on every facet of our existence. Let's take a look on research regarding hope.
Researchers have identified significant benefits of hope. Studies have shown that hope leads to life satisfaction, positive mental health, purpose, harm avoidance, confidence, productivity and resilience.[1] The positive outcomes related to hope stretch into inter-personal relationships, social health, psychological adjustment, academic achievement and human flourishing.[2]
The wellness effect of hope does not stop there. Research has shown shocking physical health outcomes related to hope. Higher levels of hope have been shown to have positive effects on adjustment from brain injuries, spinal cord injuries, breast cancer and even pain tolerance.[3]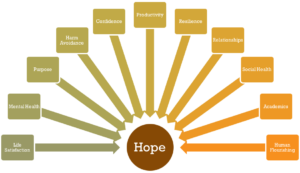 Once again, the research highlights the importance of hope. This intangible reality is critical in our lives. Hopelessness must be combatted with hope. Who would not want the outcomes listed here? This body of research also pushes us toward a more nuanced discussion of hope. It begs a number of questions that will serve our forward progression.
Is there an overlap in biblical and psychological discussions of hope? Should we make distinctions between hope as a fixed reality and hope as wanting a certain outcome? Is there such a thing as false hope? Is there such a thing as temporal hope? Should we distinguish between our experiences of hope and hope as an object? Is there any hope apart from saving hope? Does biblical hope contain the benefits claimed in this research?
If our assessment of hopelessness is accurate, hope is far more than a human benefit. It is a saving need. If hopelessness is directly tied to the fall and our painful inheritance as sons and daughters of Adam, it follows that hope would be connected to redemption and rescue. Hope alone can unravel the effects of hopelessness and heal the rupture of despair.
As we explore the biblical data on hope, the questions above will find answers and our grasp of this theme will expand and deepen.
[1] Dedova, "Meaning in Life and Hope as Predictors of Positive Mental Health," 193.
[2] Katherine Kandaris, "The Moderating Effect of Hope on the Relationship Between Emotional Approach Coping and Flourishing in College Students." College of Education (DePaul University, 2013), 23.
[3] Kandaris, "The Moderating Effect of Hope…" 23.